Company Overview
Nike, a leader in sportswear, has a current brand valuation of 34.8 billion. (Statista.com). Nike provides customers with athletic clothing, shoes, and equipment. Nike's primary resource that allows it to remain competitive is its brand. The Nike brand is powerful because it provides customers with information about the product, it increases consumer utility, and is used to signal something about the consumer. Nike has leveraged its brand to sign exclusive agreements with the most influential athletes in sports. Some of Nike's athletic sponsorships include Michael Jordan, Kobe Bryant, Cristiano Ronaldo, Rafael Nadal, and Tiger Woods.
Having the Nike brand associated with global sports icons increases consumer perceived value of the brand and product. Nike successfully operates in the following geographic regions North America, Western Europe, Central & Eastern Europe, Greater China, Japan, and Emerging Markets. (Reuters.com).
Nike's Atheltic Sponsorships
Product
Nike's products tend to be standardized across the globe with minimal adaptation. Sales data from 2009 – 2020 highlight that most North American sales are attributed to athletic footwear. Investment in research and development allows Nike to leverage existing technological advancements to provide consumers with innovative product design and functionality. The current brand portfolio includes the Nike brand, Jordan, Hurley, and Converse. Nike's global branding is one reason why the company continues to dominate the global footwear market.
Price
Greater consumer perceived value allows Nike to command premium pricing. Nike influences perceived value by utilizing global sports icons as brand ambassadors. Although based on the median shoe price, the table below further supports the claim that Nike can achieve higher pricing for its products compared to competitors.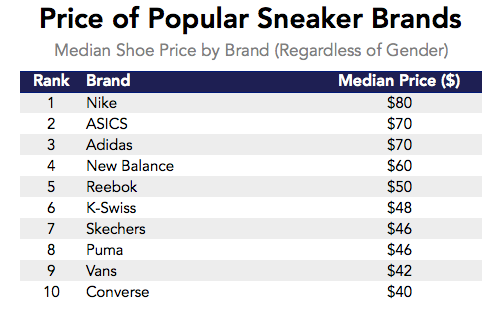 Place
Nike sells products through brick-and-mortar stores and online through the Nike platform. In 2020, Nike saw digital sales skyrocket 82% following the decline of in-store sales. (BBC.com). Nike has invested heavily in developing tools to support its decision to focus on e-commerce sales.
Promotion
Nike relies on sponsorships with key athletes to increase brand perception and expand the customer base. Having global sports icons represent the Nike brand allow the company to standardize their advertising strategy. Additionally, Nike benefits from an athlete's fan base to increase revenue for sponsor-related products. For example, Lebron James has a designated Nike product line sought after by fans across the globe. Globally recognized ambassadors allow Nike to standardize their advertising strategies with limited adaptation. Nike relies on digital, in-store, and word-of-mouth promotion.
Nike's New Stance on Social Issues
Nike has taken an active role in highlighting and addressing inequality and discrimination in the United States. More recently, Nike released a commercial in Japan addressing discrimination. Nike's Japanese commercial caused customer backlash and threats of boycott. (BBC.com). As Nike continues to tackle social issues across the globe they must properly take into consideration potential cultural differences. Adaptation is crucial to Nike's success in their new social issues campaign. In short, the social issues in the United States are different than those in other countries and cultures. Customers may not be receptive to a global/standardized social issue campaign.