Instagram for your business? Where to start, right? It may seem a bit overwhelming. No doubt, in doing a web search on this topic there was no shortage of information and blog posts to help out the novice user. However, when we strip it down to the basics, getting started is the easy part.
Whether you want to use Instagram #IG to promote your business or yourself, we are going to provide some insightful tips on how to best leverage this fun platform.  Just follow our blog (Samira Rami & Karina Rico) for the next couple of weeks and we will bring you up to speed with this fun online mobile photo-sharing, video-sharing and social networking service now counting more than 300 million users.
1. "Username" – But make this one something short, easy to remember and that properly represents your company's brand.
2. IG Profile  – When creating an IG Profile/Bio, you may include up to 150 characters; therefore, word to the wise, make each character count. Bio should include keywords from your industry to help make your account easy to find through in-app searches as well as your website. To help you create the perfect profile, below is a great visual illustration that provides a roadmap to maximizing your Instagram profile's bio.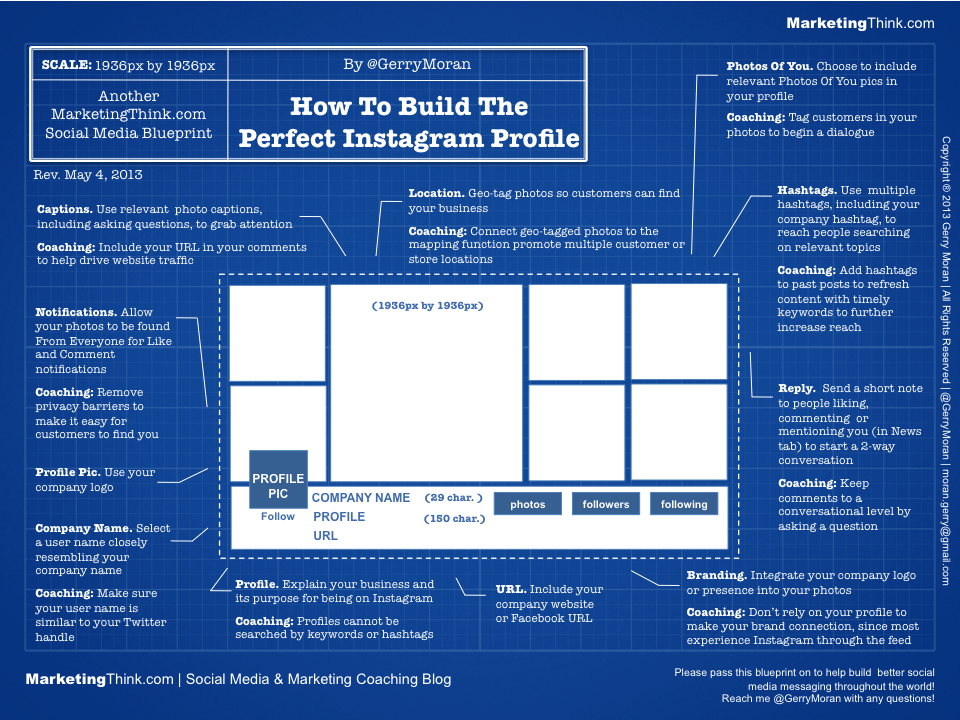 3. Link Your Accounts  – If you have a Facebook page or Twitter account for your business, link it to your Instagram account so you can share your pictures to your Facebook page/Twitter account for some cross-marketing. Also make sure that your other social media platforms are established and up-to-date, including your website, blog, YouTube, Pinterest etc.
4. Post with purpose – as simple as that. Make sure you are posting images (or videos) that tell a story. Sometimes this is easier said than done, but images are truly worth a thousand words (or dollars). Use high quality, sharp images, be consistent with filters or photo styles, but make sure you are doing your company justice and not injustice with your images. Also, be sure that you are writing a well thought out description to each post. Offer your audience something of value in each photo you post.
5. #Hashtag – Have a solid "hashtag strategy" because on Instagram it is the ONLY method for searching for content. Create a "hashtag strategy" for your business account. Encourage others to use your hashtag when they are posting something related to your business, as it will help their followers track back to your Instagram account. Always include a minimum of five to six hashtags in the description of each post to reach new users!
Were these five tips useful? We can't wait to hear from you!!! More to come; stay tuned for the #next5greatIGtips #igers #EMBA605 #myhrketing #blogproject #chapmanuniversity